What Is Plantar Fasciitis And The Best Ways To Alleviate It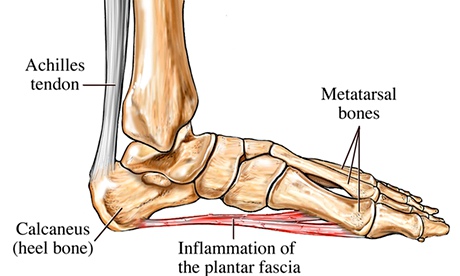 Overview
The plantar fascia is made up of 3 distinct parts: the medial, central, and lateral bands. The central plantar fascia is the thickest and strongest section, and this segment is also the most likely to be involved with plantar fasciitis. In normal circumstances, the plantar fascia acts like a windlass mechanism to provide tension and support through the arch. It functions as a tension bridge in the foot, providing both static support and dynamic shock absorption.
Causes
Plantar fasciitis is the most common injury of the plantar fascia and is the most common cause of heel pain. Approximately 10% of people have plantar fasciitis at some point during their lifetime. It is commonly associated with long periods of standing and is much more prevalent in individuals with excessive inward rolling of the foot, which is seen with flat feet. Among non-athletic populations, plantar fasciitis is associated with obesity and lack of physical exercise.
Symptoms
The most common symptoms of plantar fasciitis include pain on the bottom of the foot near the heel, pain with the first few steps after getting out of bed in the morning, or after a long period of rest, such as after a long car ride. The pain subsides after a few minutes of walking. Greater pain after (not during) exercise or activity.
Diagnosis
During the physical exam, your doctor checks for points of tenderness in your foot. The location of your pain can help determine its cause. Usually no tests are necessary. The diagnosis is made based on the history and physical examination. Occasionally your doctor may suggest an X-ray or magnetic resonance imaging (MRI) to make sure your pain isn't being caused by another problem, such as a stress fracture or a pinched nerve. Sometimes an X-ray shows a spur of bone projecting forward from the heel bone. In the past, these bone spurs were often blamed for heel pain and removed surgically. But many people who have bone spurs on their heels have no heel pain.
Non Surgical Treatment
If conservative treatments fail, and the symptoms of plantar fasciitis have not been relieved, the doctor may recommend one of the following treatments. Cortisone, or corticosteroids, is medications that reduce inflammation. Cortisone is usually mixed with local anesthetics and injected into the plantar fascia where it attaches to the heel bone. In many cases this reduces the inflammation present and allows the plantar fascia to begin healing. Local injections of corticosteroids may provide temporary or permanent relief. Recurrence of symptoms may be lessened by combining steroid injections with other forms of treatment such as orthotics, changes in shoe gear, weight loss, stretching exercises, and rest. Repeated cortisone injections may result in rupture of the plantar fascia, thinning of the heel's fat pad, and other tissue changes. Extracorporeal Shock Wave Therapy (ESWT) devices generate pulses of high-pressure sound that travel through the skin. For reasons that are not fully understood, soft tissue and bone that are subjected to these pulses of high-pressure energy heal back stronger. There is both a high-energy and low-energy form of ESWT; and both forms of shock wave therapy can be used in the treatment of plantar fasciitis. Research studies indicate ESWT is a safe and effective treatment option for plantar fasciitis. The recovery period is shorter than traditional invasive surgery and the procedure eliminates many of the risks associated with traditional surgery.
Surgical Treatment
If treatment hasn't worked and you still have painful symptoms after a year, your GP may refer you to either an orthopaedic surgeon, a surgeon who specialises in surgery that involves bones, muscles and joints, a podiatric surgeon, a podiatrist who specialises in foot surgery. Surgery is sometimes recommended for professional athletes and other sportspeople whose heel pain is adversely affecting their career. Plantar release surgery. Plantar release surgery is the most widely used type of surgery for heel pain. The surgeon will cut the fascia to release it from your heel bone and reduce the tension in your plantar fascia. This should reduce any inflammation and relieve your painful symptoms. Surgery can be performed either as, open surgery, where the section of the plantar fascia is released by making a cut into your heel, endoscopic or minimal incision surgery - where a smaller incision is made and special instruments are inserted through the incision to gain access to the plantar fascia. Endoscopic or minimal incision surgery has a quicker recovery time, so you will be able to walk normally much sooner (almost immediately), compared with two to three weeks for open surgery. A disadvantage of endoscopic surgery is that it requires both a specially trained surgical team and specialised equipment, so you may have to wait longer for treatment than if you were to choose open surgery. Endoscopic surgery also carries a higher risk of damaging nearby nerves, which could result in symptoms such as numbness, tingling or some loss of movement in your foot. As with all surgery, plantar release carries the risk of causing complications such as infection, nerve damage and a worsening of your symptoms after surgery (although this is rare). You should discuss the advantages and disadvantages of both techniques with your surgical team. Extracorporeal shockwave therapy (EST) is a fairly new type of non-invasive treatment. Non-invasive means it does not involve making cuts into your body. EST involves using a device to deliver high-energy soundwaves into your heel. The soundwaves can sometimes cause pain, so a local anaesthetic may be used to numb your heel. It is claimed that EST works in two ways. It is thought to, have a "numbing" effect on the nerves that transmit pain signals to your brain, help stimulate and speed up the healing process. However, these claims have not yet been definitively proven. The National Institute for Health and Care Excellence (NICE) has issued guidance about the use of EST for treating plantar fasciitis. NICE states there are no concerns over the safety of EST, but there are uncertainties about how effective the procedure is for treating heel pain. Some studies have reported that EST is more effective than surgery and other non-surgical treatments, while other studies found the procedure to be no better than a placebo (sham treatment).
Stretching Exercises
Stretching exercises for the Achilles tendon and plantar fascia are recommend to relieve pain and aid in the healing process. Sometimes application of athletic tape is recommended. In moderate or severe cases of plantar fasciitis, your doctor may recommend you wearing a night splint, which will stretch the arch of your foot and calf while you sleep. This helps to lengthen the Achilles tendon and plantar fascia for symptom relief. Depending on the severity of your plantar fasciitis, your physician may prescribe a store-bought orthotic (arch support) or custom-fitted orthotic to help distribute your foot pressure more evenly.